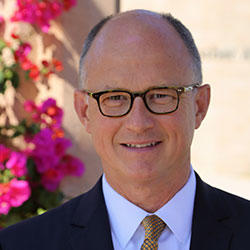 Marc Fisher joined UC Berkeley in September, 2017 as Vice Chancellor, Administration.
Joining Berkeley from UC Santa Barbara, where he served as Vice Chancellor for Administrative Services, Marc directs efforts to improve campus operations to meet its budgetary goals while remaining the nation's preeminent public research university.
As vice chancellor, Marc will take the helm of Berkeley's administrative operations, leading a division of more than 1,800 staff spanning Human Resources, Information Technology, Facilities Services, Campus Shared Services, the UC Police Department, Supply Chain Management, Business Contracts and Brand Protection, Parking & Transportation, Property Management & Library Bindery, and Campus Sustainability; all functions that support Berkeley's teaching, research, and public service mission.  Marc will also partner with the Chancellor and Executive Vice Chancellor and Provost  to improve organizational culture, focusing especially on Berkeley's commitment to diversity.