Click on any item to view its answer.
The lack of state funding is eroding our public character.
FALSE: The changes in the composition of our funding sources have not had any impact on the public character of Berkeley. We have experienced a 50% decline in nominal dollars in state appropriations over the past seven years and we have never been more of a public institution as measured by the composition of our student population or faculty. We are fully committed to our public purpose, mission and values and there is little reason to think this will change.
Most of our funding goes to pay for administration.
FALSE: More than 70% of our revenues are spent on teaching, research and academic departments. An additional 13% goes to Student Affairs, with about 15% allocated to fund our operations. And this has been on a declining trajectory. The salaries of the Senior Management Group have also declined, accounting for less than 1% of our total budget.
The number of applications to Berkeley has increased.
TRUE: Another record number of students have applied for enrollment in UC Berkeley's 2013-14 freshman class. In all, more than 67,000 individuals submitted applications, up nearly 10 percent from the previous application period.
Berkeley's revenues are growing.
TRUE: Despite the huge disinvestment in higher education by the state, Berkeley's revenues have increased over time.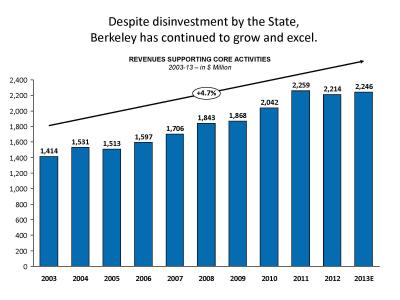 Tuition increases are making it impossible for lower-income families to pay for college.
FALSE: About 40% of our undergraduate students effectively pay no tuition because their families earn under $80,000 a year. The total cost of attendance for our lowest income students has been flat in real terms over the past several years. In addition, as of this year, we are the only public university in the U.S. to offer financial aid to families with incomes between $80,000 and $140,000, via our Middle Class Access Program (MCAP). In effect, this insulates students from families in this income bracket from tuition increases if other factors stay the same.
Berkeley students receive more Pell Grants than all the Ivy League schools combined.
TRUE: Berkeley has 38% of undergrads receiving awards compared to 17% for the combined Ivy League. See our latest report on Pell Grant statistics.